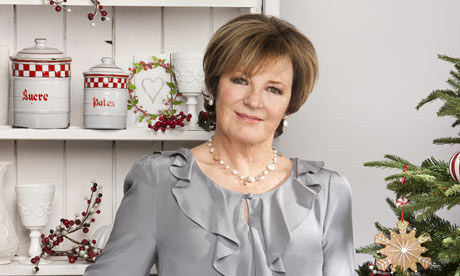 So, who watched the lovely
Delia
last night on BBC2? If you missed it, it was her Christmas special and you can catch up with it on
iPlayer
.
I was looking forward to it a lot, I even set myself a reminder as I tend to miss these things, and settled down to watch it in my cosy armchair last night. Well, less than 10 minutes in and I could have gladly shot myself in the head, it would clearly have been less painful. I love Delia, I do. Truly. The lady is a fabulous cook but the problem with these tv cooks (I say cook, rather than chef) is that they are not just showing you how to cook, they're trying to sell you a lifestyle. It's all very look at me in my perfect house, with my perfect kitchen garden, my perfectly stocked pantry,
don't I just live such a charmed life
... and it's just about enough to make me want to barf.
Yes Delia, of course home cooking is surely so much better than racing around a crowded supermarket but hello? How do we get all those lovely ingredients to our perfect kitchens? We don't all have a team of skivvies and food stylists at our beck and call so the majority of us will actually have to face the supermarkets this Christmas. God forbid. I'd imagine most of us actually have jobs and/or families which means whilst we'd love nothing better than to stand in the kitchen from October, making Christmas puddings and stashing them under the bed with the dust bunnies, it's just not always that doable, and besides Waitrose do it far better than I could. I really do enjoy cooking but sometimes life really is too short and I don't know about anyone else but I think I would struggle to find the time to prepare everything Delia made last night, especially when Delia recommends you cross four full days off your calender for the Christmas preparations.


Watching the programme last night did make me wonder if Delia might have a little problem with the old sauce - there was alcohol in everything! I know it's Christmas and all that but if I had to buy stout, brandy, port, rum, sherry, whisky and all that jazz, well that would be the Christmas grocery budget blown right there.


Don't get me wrong, I did enjoy the programme, the music was nice and made me feel quite festive, but the Terry Wogan radio snippets were slightly grating. I, of course, own the book and I will attempt a few of the recipes this Christmas I am sure. Our turkey is always prepared and cooked a la Delia (for the past few years using the recipe from her Complete Cookery Course) and I doubt I'll stray from that this year however I don't agree with her comments in her book that
"home-made anything is always going to cost less"
because I absolutely don't think that is true. I have made cranberry sauce and Christmas cakes in the past and there is no way the ingredients cost less than something I could have bought readymade. I don't dispute that homemade tastes better, but I don't agree that it's always cheaper, especially if you are wanting to buy good quality ingredients.


Watching Delia on the telly, I'm afraid she just doesn't do it for me, in the same way that watching Nigella on the telly makes me want to hide behind the sofa cringing. Still, there's no denying Delia is a classic and here are some of the recipes that stand out to me from the Delia's Happy Christmas book.


Stollen
Roast Collar of Bacon with Blackened Crackling*
Fillet of Beef in Pastry with Wild Mushrooms & Red Wine Sauce*

Jacket Potato Wedges with Melting Cheese & Spring Onion

Traditional Braised Red Cabbage with Apples

The Famous Chocolate Truffle Torte
Stilton Rarebit


I must admit, it's a large book and there's not a whole lot that takes my fancy, it's just not really my type of food and I much prefer Nigella's Christmas to this book which I will blog about tomorrow.


love
& kisses
Mrs M x
*featured on the TV programme